Carry On: Elegies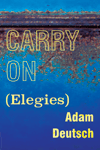 Carry On: Elegies is also available through other retailers like
Bookshop.org
If you order it here, he can write something nice in it for you, and you have the option of adding a zine or two.
If poems are meant to share experience, and create shared events, reading's a unification that can be similar to loss: an experience for everyone. This is a chapbook of twenty-five poems on loss, gathering of what isn't gone, and what's changed. "We are never alone in any event," is a reminder in the title poem, that the death of an entity–individual, an era, status, art, mechanism, monument, or rite–is also an opening.
This is the 2nd edition of this chapbook, revisited and recreated in the aftermath of the abrupt shutting of a small press. In "Returning," Deutsch writes, "I've wasted the last four years…Bees escape plants without flowers."
Only one poem from this chap is in Every Transmission.
Read a
review here.
ISBN: 978-1-943899-06-7